Piece of the Month- Ocean Green Diamond Pendant - £3250.00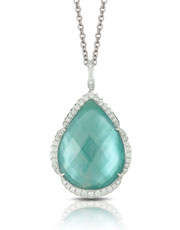 We have selected the piece of the month from our new ´Ocean Collection´
This stunning pendant is made using the ancient lapidary technique of gem improvement by way of making either doublets (2 layers) or Triplets (3 layers). The craftsmanship used to create these layered gemstones is exceptional.
The pendant shown is made with checker-cut green Praziolite over a white Mother of Pearl centre, layered on a green Agate base which creates the beautiful shimmering green colour. The pear shape green Ocean Green gemstone is set in 18 carat white gold. For that little bit of ´extra special´ we have added a sparkly halo of 0.40 carats of white diamonds. The pendant is presented on a 16 inch white gold diamond cut chain which also really catches the light beautifully. This unique piece of jewellery combines excellent craftsmanship and a feminine, classic design to create a beautiful, distinct piece of jewellery any lady would covet. RRP £3250
Valuation Day ‐ Wednesday 9th September:
We are pleased to announce that we are holding our next in store Jewellery Valuation day on Wednesday the 9th September. We still have some spaces available, please give us a call or pop in if you would like to book an appointment.
These fascinating roadshow-style events give you the chance to have a face-to-face consultation with an expert independent Guild Valuer whilst your items are valued.
Guild of Jewellery valuer, Tom Ward, who is a Member of the Institute of Registered Valuers, will be available by appointment between 10am and 5pm on Wednesday 9th September to carry out personal consultations on your jewellery.
To book an appointment for this special in store event, or to find out more please contact us on 020 8742 1178 or call in to see us.
Prices are based on the total value of your jewellery rather than on the number of items and start at £50. Please check our website for a full price list www.marmaladejewellery.co.uk. We also ask for a £20 deposit to secure your place as we get booked up very quickly. We look forward to seeing you and your beautiful jewellery soon.
Chiswick Book Festival
Make a long weekend of it this September with Chiswick Book Festival from Thursday 10th until Monday 14th September.
The 7th annual Chiswick Book Festival once again brings together top authors and their readers for an inspiring and entertaining long weekend of history, fiction, thrillers, biography, creative writing, adventure, travel, food and children´s books. Readers can buy the latest books and have the opportunity to meet the authors.
The Chiswick Book Festival is a non-profit-making community event, raising money for three reading-related charities and St Michael & All Angels church which hosts and underwrites the Festival. Other events take place around Chiswick at Chiswick House, Chiswick Library, the George IV and the Tabard Theatre.
For more details of tickets and a full list of literary based events, have a look on the website: www.chiswickbookfestival.net